Come and try our Judo lessons for FREE! Wear loose fitting clothes, no buttons or zips, easy on/off shoes, such as flip flops. And no socks, watches, jewellery, etc. when on the judo mats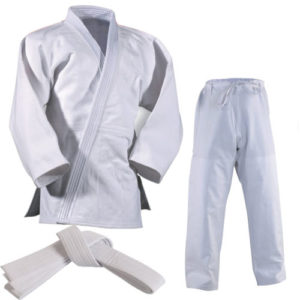 Judogi
A judogi comprises three parts; a very heavy jacket (uwagi), lighter canvas trousers (shitabaki), and a cotton belt (obi). The uwagi is generally made from heavy weight cotton.
Novice children training just need a supple and lightweight fabric around 250 g/sqm depending on size. Children competing, will benefit from a thicker and more durable weight around 350 g/sqm.
Novice adults training require a supple and lightweight fabric 500 g/sqm will be plenty. Adults competing will want a thick and durable weight. The IJF competition regulation is between 650 and 750 g/sqm.
Cheaper, lighter weight uwagi will be made from single weave cotton. Cotton is comfortable and breathable, reducing the risk of overheating during practice or competition.
The addition of other fabrics such as synthetics can help strengthen the judogi whilst keeping costs down, but this will have a negative effect of the breath-ability and feel of the product.